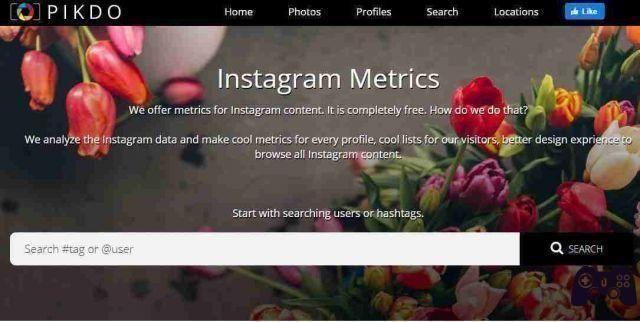 Pikdo is a website that allows you to see all the photos, stories and posts published on Instagram by a user knowing his username used on the famous social network.
Pikdo is very useful for those who do not want to subscribe to Instagram or see the profiles of others anonymously, as long as they are set as public.
Pikdo how it works
All you have to do is go to Pikdo's and type the Instagram username of the person in question in the appropriate text field to see all their photos, posts and stories.
Then enter @username in the text bar and hit the Search button next to it.
Now if the result and the username are correct you should see on the page that opens the profile photo of the person you are looking for with their username next to it, now clickable. Then click on it to go to the next page and see all profile information including posts, photos and stories.
Once you click the link you will find yourself on a page with all the information of that Instagram account. You will know the followers he has, who he follows, how many photos he posted and the user ID.
Scroll down the page to see the photos and posts published as well as the stories. By clicking on a post you can click on the black Save Image button to save it to your device.
Conclusions
Pikido is an excellent service for those who want to enter the world of Instagram and follow someone even without necessarily having to have a registration on the famous photographic social network. Furthermore, this service can also be used to view anonymous profiles or profiles of people who have blocked you on the platform.
There is another site that with the same procedure above, you can see and download Instagram stories and posts anonymously, this is called.
Besides Ista-Stories there are other services like or.
Thanks to these online services you will be able to watch the posts and stories of users anonymously and without an Instagram account. Then if you want more information find out.