Do you need softer support for your gaming sessions? Do you want more accessories for a richer and more relaxed gaming experience? Then you've come to the right place! In this buying guide, we will accompany you in choosing between best gaming chairs. Unlike a normal gaming chair, the armchair needs more comfort, both in terms of the comfort of the materials and in terms of the accessories that come with it: smart functionality, pockets, head and footrests, the living space of the gamer in gaming sessions must have the maximum possible comfort.
Who would have thought that maybe an armchair fits better as furniture in your gaming station? In particular, if your ideal environment is the living room, you might prefer such a seat rather than a chair. Get ready to sit comfortably one last time on your old seat: after reading this guide, you will rest your backside on a very comfortable and soft gaming chair full of accessories. Ready? Street!
If you haven't found what's right for you in this guide, we recommend these other two guides: Gaming chair, the best under 200 euros and Secretlab gaming chairs.
Gaming armchairs, the best
Secretlab Titan EVO 2022, the best ever
Oversteel gaming armchair, the cheapest
Corsair T3 Rush, the simplest
X-ROCKER, the best for kids
Razer Iskur, the best lumbar support
Razer Enki X, the traditional alternative
Secretlab Titan EVO 2022, the best ever
Let's start with the
Titan EVO 2022 by Secretlab
, which is to date the best gaming chair ever put on the market. In fact, it has every feature you could ever look for: it is comfortable, perfectly supports the back and, last but not least, it is aesthetically spectacular. This chair will fit like a glove on your body, giving you the possibility to choose between three dimensions when purchasing and then having many customizable elements. What makes the Titan EVO 2022 so comfortable is the
adjustable lumbar support, magnetic headrest cushion and 4D armrests
. In short, you will feel like you are sitting on a cloud even after hours and hours, and the leatherette material with which it is covered also guarantees maximum durability, so you will be making an investment that will last you for years.
See on Secretlab
Oversteel gaming armchair, the cheapest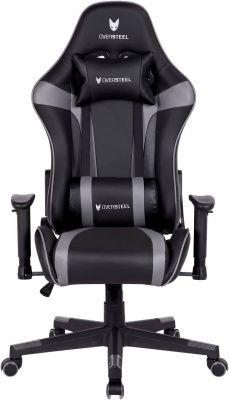 We then move on to the
gaming chair by Oversteel
, which for less than €200,00 will be able to offer you excellent comfort. In fact, we have an ergonomic design that will guarantee you maximum support, perfectly following the natural curvature of the back, also thanks to the included lumbar and cervical cushions; the 2D armrests, on the other hand, are adjustable both in rotation and in height, thus supporting the forearms at all times. As in any self-respecting gaming chair, the
backrest can be reclined by 180°
, so you can enjoy a relaxing break between games. The seat and backrest are covered with a very high quality foam padding, which represents the best alternative for comfort but also for the resistance of the armchair, which will not be damaged with use.
See on Amazon
Corsair T3 Rush, the simplest
If you want a gaming chair but don't like ostentatious models, the
Corsair T3 Rush
is right for you: it has an extremely simple and elegant design, which will perfectly match your decor. The external fabric that covers it is not only very soft but also breathable, so you can play for hours even in the summer without sweating, while the included cervical and lumbar cushions are made of memory foam, to guarantee maximum comfort and support for your back and neck. Both the chairs and the armrests are adjustable in height, while the backrest can be reclined by 180°; to be particular in the Corsair T3 Rush are
double 65mm castors
, which will allow you to glide easily over the surface of most floors, thus avoiding dragging the wheels and making no noise.
See on Amazon
See on eBay
X-ROCKER, the best for kids
Very often you start playing as a child, and it is important that there is the right support right away, so as to avoid problems arising over the years. There are now several gaming chairs on the market designed specifically for miniature gamers, and one of the best is the
X-ROCKER
. Provided you enjoy being lower to the floor, this armchair offers relaxing comfort filled with useful gadgets for your gameplay sessions. The design features soft padding, multimedia functions with adjustable volumes and an attached RCA output. The dimensions correspond to approx
74 x 42 x 68 cm
, for a weight of more or less 7 kg, but if you want to save space or prefer to move to different locations, know that this type of low armchair is foldable! The materials are synthetic leather, while the racing chair design makes this seat one of the most intriguing gaming armchairs for a truly ridiculous price!
See on Amazon
See on eBay
Razer Iskur, the best lumbar support
If you suffer from back pain, or if you simply want a gaming chair that supports you in the best possible way, we recommend the
Razer Iskur.
It is certainly not an economic solution, but certainly one that will offer you the
Best lumbar support ever
: in the lower part of the backrest there is indeed an integrated and adjustable lumbar curve that will align perfectly with your spine, guaranteeing you an ideal posture at all times. Then we have the headrest cushion, 4D armrests that can be adjusted in height and angle, as well as the backrest. The whole thing is lined with high-intensity soft, which will mold according to your weight to always apply the necessary pressure to ensure maximum comfort.
See on Amazon
See on eBay
Razer Enki X, the traditional alternative
We close the list with another Razer product, this time the
Enki X
; it is a considerably cheaper gaming armchair than the previous one, and with a traditional look, without too many frills, but no less elegant for this. It is in fact covered in black leatherette, with
details in green that recall their Razer
, placed in the headrest. This chair will gently support your lower back, allowing you to maintain a comfortable position even after hours of play; the 2D armrests can be adjusted in height and angle, while the backrest reclines 152°, allowing you to rest between matches.
See on Amazon
See on eBay
How to choose among the best gaming chairs
Beyond your aesthetic taste and the scope of your wallet, evaluate the purchase of a gaming chair also taking into consideration the following characteristics: materials, adjustments, supports, technology and furnishings.
Materials
Materials are very important for gaming chairs: it takes very little to ruin a poor quality fabric or to tilt weak supports. Most gaming chairs offer resistant fabrics or PU leather covers, but it is with gaming chairs that the materials reach their maximum quality and comfort. In our list we have examined above all the products of X-Rocker, a leading company in the gaming armchair sector which, precisely because of the materials, offers a leather-like fabric capable of withstanding a maximum load of 120 kg. In general, however , (almost) all the items we have listed have a faux leather fabric to conform them to the idea of comfort and elegance that the image of an armchair should suggest every time you think about the product. But as you can see, even a fabric armchair like the X-Rocker Deluxe makes a good impression. The padding is present for all products and should guarantee soft and enveloping seats on all your gaming occasions.
Adjustments
Another feature to carefully evaluate when choosing a gaming chair is certainly the presence of adjustments suitable for your needs. Since we are dealing with armchairs, and not chairs, there are certainly fewer precautions as regards mobility (it is no coincidence that all the articles present in this guide do not have wheels or swivel supports), in favor of a marked propensity for comfort. Beyond the padding that dramatically increases the comfort of gaming chairs, many of the products included in this article may have discounts for thebackrest angle, to guarantee a more composed or more relaxed sitting according to how you want to spend your gaming sessions. Also elbow rest armrests, present only on some armchairs such as the latest X-Rocker in the list, can have height adjustments that guarantee more comfort.
Supports
Always looking for maximum comfort, some gaming armchairs such as the Vinsetto ones can provide extra supports to adjust posture or to make players feel comfortable: lumbar pillows that lighten the weight load on the spine, head pillows in aid to those suffering from cervical or even footrest so as not to keep the legs always in the same position, helping circulation. Carefully assess the quality of your supports: a poorly made lumbar cushion or headrest can cause annoying back pain and headaches.
Technology
Beyond the usual comforts common with gaming chairs, armchairs are also renowned for theirs technological functions. Not all the armchairs that we have selected in this article have such accessories for the simple reason that these increase the price and we still wanted to offer very cheap alternatives such as the Vinsetto gaming armchairs, however we guarantee that technology in a gaming chair can really make a difference. In the article we have included both simple aesthetic frills such as i RGB LED of the X-Rocker Monsoon, both more advanced technological functions that guarantee a more complete immersion in your gaming sessions: let's talk about the audio systems and subwoofers common to the X-Rocker armchairs, or of theinnovative Trimotor technology by X-Rocker which exports the vibration of your gamepads to the entire session! On the side of almost all models of gaming chairs you can also find sockets and controls useful for connecting devices and consoles; in this case, the most intriguing armchairs also have wireless connectivity via Bluetooth. Beware because most of these products are still calibrated for the current-gen: it is better to take HDMI adapters to use the hi-tech features of the armchairs with PS5 and Xbox Series X|S.
Dimensions:
When it comes to gaming chairs, size matters more than ever. In fact, it is very easy to find yourself in a session that is not suited to your body size. You will have to take into account your height to choose the seat that best suits you, by consulting the dimensions of the item you are interested in in the product tab on Amazon. Furthermore, another fundamental factor concerns your personal taste: do you prefer a wide and high armchair, or with a more contained backrest and a narrower seat? Some armchairs may also have a seat on the ground instead of a pedestal, and these may be more suitable for younger players.
furnishings
Unlike a gaming chair, the armchair has a somewhat different furnishing function. Even in the gaming field, when a player has to evaluate the comfort of sitting at his workstation, he may need to understand whether to buy a chair or an armchair. Gaming chairs are there perfect sitting room to play video games. This does not mean that it is inadvisable to use an armchair on the list for your desk workstation, but in general chairs are more manageable and light seats for structural reasons, and are better suited to a desk. For this reason we have positioned in this guide several solutions among the best gaming armchairs: there are models such as the Bakaji Racer armchair that would blend in perfectly with the sofas of a living room, there are the Susany armchairs which are hybrids between chairs and armchairs which would also look great next to an office desk, and there are the models with floor seating such as the X-Rocker Chimera which instead adapt to a more youthful and open space gaming environment.