Virtual reality offers new alternative ways to see the video game, here are the best VR games for PC
Virtual Reality has always been a gamer's dream from an early age. The possibility of really getting inside those imaginaries and the feeling of being able to physically interact with the videogame characters is a truly fascinating idea. For some years now we have been approaching those imaginative ideas, in fact the viewers currently on the market are able to propose truly unique experiences that cannot be had with the classic video game. So let's see which are the best games available for Virtual Reality on PC.
A parallel way to play games
The Virtual Reality market on PC is vast and varied. By now there are different types of viewers that allow us to meet the needs of all of us, if you want to be helped in choosing the most suitable viewer we leave you to guide the best PC viewers. Once you have chosen the right viewer for you, you will find a wide range of titles that continues to grow over time. If a few years ago it was possible to find only short experiences of a few hours which allowed you to taste the potential of VR, now real video games have been developed like those for classic platforms.
Virtual reality allows you to explore new genres and new ways of having interaction. It has now created a real one parallel world compared to the classic one. With the passage of time, Virtual Reality and the traditional video game will continue to coexist without replacing the other. So if you want to try new experiences, VR could be the one for you.
Asgard's Wrath - Best VR games for PC
Norse mythology undoubtedly exerts a great fascination on many gamers. In Asgard's Wrath it is possible to experience firsthand the unfolding of these Nordic myths. The game is exclusive to Oculus systems and is developed by Sanzaru Games. As a young god you will find yourself flanking Loki in his sinister plans.
Asgard's Wrath is an action-RPG that it has nothing to envy to the games of the same genre available for console and PC. During the more than 20 hours required to complete the game, combat phases alternate with exploratory phases together with your fellow adventurers up to face colossal bosses inspired by Scandinavian legends. Furthermore, on a graphic level it is one of the best games for Virtual Reality, able to make you really daydream.
Beat Saber - Best VR games for PC
Virtual Reality is also capable of creating the possibility of transforming known and deeply explored genres in ways never seen before. Beat Saber does just that with the rhythm game genre with a very simple idea. The aim of the game is to use the two light swords that you have available to cut the red and blue cubes in the correct direction, which will meet us to the rhythm of the music.
With this simple formula Beat Saber is one of the best games available for VR. The original soundtrack is edited by Jaroslav Beck, composer who worked on the soundtrack of the Overwatch shorts for Blizzard, among other things. Also in the final version Beat Saber allows you to create your own levels with custom songs.
Super Hot VR - Best VR games for PC
A first person shooter with a peculiar mechanic that finds its maximum expression in VR. Super Hot VR is structured a series of levels in which you have to defeat all the enemies that will come before you, with the particularity that time only passes when the player moves. Indeed, we could speak more of a puzzle than a classic first person shooter.
The player must calibrate the movements to perfection to pass the most difficult levels. Also the game features a metanarration really interesting, which dramatically increases the involvement and immersion. It is one of those titles that once you insert the helmet you will find it hard to stop playing it, so we recommend it in this guide.
Keep Talking and Nobody Explode – Migliori giochi VR per PC
Here is a truly original game that makes cooperation its strong point. Keep Talking and Nobody Explode features a series of levels where a bomb is randomly generated. The owner of the viewer has the purpose of defusing it and is the only one who can see it.
The companion (or companions) will be in possession of the manual that allows you to defuse the bomb. In the role of experts players with the manual will have to communicate with the player with the viewer only through their voice, in this way it will be possible to pass the level. If time runs out or if more than three mistakes are made, the bomb explodes and you face defeat. Keep Talking and Nobody Explode manages to do a truly unique use of virtual reality, confirming that this interesting technology allows us to explore new ways of making video games.
Elite: Dangerous - Best VR games for PC
Traveling in space is one of the most common and unfortunately unattainable dreams. With Elite: Dangerous in the VR version we can identify a little more in a hypothetical life among the stars. The space simulator offers the possibility to pilot your own spaceship inside a procedurally generated universe. It is up to us to decide whether to ally with existing factions or haggle to accumulate wealth.
One of the advantages of the game is to be very "friendly" towards those suffering from motion sickness as we will be sitting aboard our spaceship. But be careful, Elite: Dangerous is really complex and to play it at its best you need to dedicate a lot of time to it.
Half-Life: Alyx - Best VR games for PC
Can't miss the one that perhaps is now there first real killer application for Virtual Reality. The legendary Half-Life saga returns after almost 13 years with a new chapter highly anticipated by gamers. This spin-off arises before the events of Half-Life 2, we will therefore have to wait for a possible sequel to find out how the adventures of Gordon Freeman end. However, this does not prevent you from experiencing City 17 as it has never been possible until now.
A series of incredible gameplay gimmicks throughout its 15 hours of gameplay make Half-Life: Alyx a real must buy if you have a VR headset. This time Valve hit the mark and completely revolutionizes the rules of a Virtual Reality game, with the first triple A game for this type of peripherals. We can't wait to find out what the future holds for this immortal saga.
Arizona Sunshine - Best VR games for PC
Let's move on to a game that does not hide its many flaws, but which can still have its say in a panorama like that of Virtual Reality. Arizona Sunshine is a first person shooter where all we have to do is face some order di zombie intent on attacking us. The title does not enjoy too high a longevity, but it will entertain you enough to feel satisfied.
The gameplay is really well built, the controls are very precise and the response of the weapons is excellent. Also it is possible interact with the environment in different ways, from the possibility of creating makeshift covers to activating machinery that can help you. For a Virtual Reality enthusiast Arizona Sunshine offers several hours of pure fun and will hardly be disappointed.
Lone Echo - Best VR games for PC
Movement in VR games creates motion sickness and the teleporter system doesn't satisfy you? Then Lone Echo could prove to be a fantastic variation on the theme that will introduce you to a new way to move in a VR game. In fact, the strong point of Lone Echo is precisely this. We are located in zero gravity, so the Ready at Dawn team (famous for The Order. 1886) developed a rather innovative movement system.
It is possible to cling to any wall or object on the screen, pushing himself against the walls the character will float until you push yourself again. Objects too have physics that will make them float in a vacuum, thus increasing the feeling of being on a spaceship. Not to mention then Echo Arena multiplayer mode, based on a peculiar sport always practiced in absence of gravity. Lone Echo is available exclusively on Oculus devices.
The Talos Principle VR - Best VR games for PC
One of the most popular puzzles of recent years comes with its version dedicated to Virtual Reality. The game is basically the same as the original, the only novelty is to enter first person in this fantastic title. The Road to Gehenna DLC is also available within the package which makes this version certainly the best possible one to buy if you want to retrieve the game and are in possession of a viewer.
Virtual Reality has been taken care of particularly well. In fact there will be three modes available for movement: whole room, standing or sitting. In this way the pleasure of exploration and immersion increases exponentially. Especially recommended if you want a slower paced game, which will make you think about the increasingly difficult puzzles to face in order to continue in The Talos Principle VR.
Find Saves the Universe - Best VR games for PC
Rick & Morty has had extraordinary success among the public thanks to his brilliant and at the same time crazy humor. All this can be found in a VR video game. Not by chance Trover Saves the Universe is made by Squanch Games, the software house founded by Justin Roiland, co-creator of the Adult Swim series.
The game relies heavily on this kind of comedy, real strong point of the production. You will be positioned on a chair and, through the controls of the station, you will be able guide Trover on his journey through the crazy worlds created by the team. The PC version of Trover Saves the Universe is available exclusively for Oculus systems.
Moss - Best VR games for PC
Moss is a truly unique title in the VR gaming landscape. It is in fact one of the very few cases of third person game playable through Virtual Reality. Already for this reason Moss deserves our attention, even just to discover the gimmicks that Polyarc has invented for this work.
The aim of the game is to help the little mouse Quill. The latter is the protagonist of a fairy tale told in a book. The peculiarity of the game is to be able to communicate only through gestures. We will therefore have to overcome some puzzle sessions and some sporadic fighting which certainly does not hurt. Unfortunately, however, the longevity of Moss is not very high and, given the quality of the game, you will probably be left with a feeling of wanting more.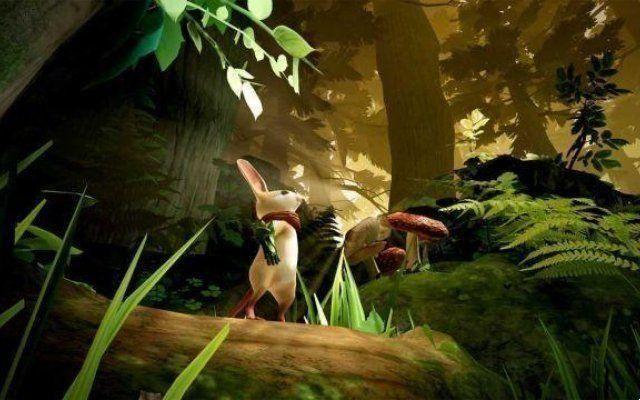 Batman Arkham VR - Best VR games for PC
Rocksteady's first experience in Virtual Reality marks what it could be the conclusion of the Batman Arkham saga. In fact, now that the team is dealing with Suicide Squad we don't know if a new chapter of the saga will arrive. This piece of the puzzle, however, is little known among lovers of the saga, but you can retrieve it if you own a VR viewer.
Unlike the canonical chapters, in Batman Arkham VR the action is reduced to the bone. The game focuses mainly on storytelling and on the gameplay front he relies on another of the Batman's skills, that is his investigative skills. In addition, an excellent graphic sector is the background to an interesting experiment that all Batman lovers, especially those of the Arkham saga, they absolutely cannot get lost.
Star Wars Squadrons - Best VR games for PC
Star Wars Squadrons is a game that is not born exclusively for VR, but it is undeniable how the game finds its maximum expression on this platform. This is a title that uses the Star Wars license to focus solely on space battles.
Squadrons provides one single player campaign set halfway between the original trilogy and the last one produced by Disney. In addition there is also a mode multiplayer to face other players in spectacular space battles. We recommend it to anyone who is a lover of the brand: taking advantage of VR you can really get inside the most iconic Star Wars spaceships.
No Man's Sky - Best VR games for PC
We continue our guide with one of the most incredible stories in the history of video games, which had a happy ending. The launch of No Man's Sky was simply disastrous: the game did not live up to expectations and the contents were nowhere near what the developers promised. Over the years, however, a series of free updates have brought No Man's Sky back to life. now more appreciated and played than ever.
Among the innovations introduced post launch there is also the VR support, which adapts perfectly to the type of game. In fact, in No Man's Sky we will be able to explore an entire galaxy procedurally generated. It is up to the player to decide whether to build an ever-larger base on a particularly thriving planet, or to throw himself into exploration aboard his own spaceship. Now the contents are certainly not lacking, and virtual reality can only dramatically increase the immersion in an entire universe within the player's reach.
Resident Evil 4 VR - Best VR games for PC
If you are a fan of the old saga of resident evil then you can't get lost Resident Evil 4 VR. This title will allow you to play a completely re-adapted version for virtual reality of one of the most important games ever released by Capcom. The developers have managed to keep the elements behind the game insert however at the same time a large number of new unique features for virtual reality able to offer players a new and fun experience.
These changes make Resident Evil 4 VR a very good title, but remember though that it is an adaptation of a product that it was not originally designed for VR and consequently some sequences they will not be too pleasant to experience using a headset.
A dive into Virtual Reality
These are the best VR games available on PC. Wearing a headset can be a unique experience that you cannot understand until you try it for yourself. We therefore advise you to throw yourself headlong into this world with the hope that these tips will help you choose the game that's right for you.
If you want to stay up to date on all the news from the gaming world and not only keep following us on Road4Gamers. In order not to miss even one of our articles, don't forget to follow us on our social networks Facebook and Instagram to have a 360 degree coverage on the world of video games. Furthermore, in case you want to buy some games at an advantageous price, we suggest you take a look at the many offers on Instant Gaming.
(on offer on amazon.com) Don't miss it! Mario Kart 8 Deluxe - Nintendo Switch The definitive version of Mario Kart 8 for up to 8 players in local multiplayer; TV mode with a maximum resolution of 1080p 59,99 EUR −20% 47,99 EUR